> > < <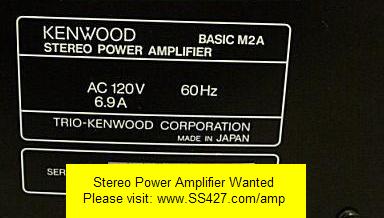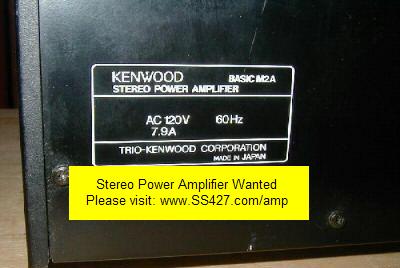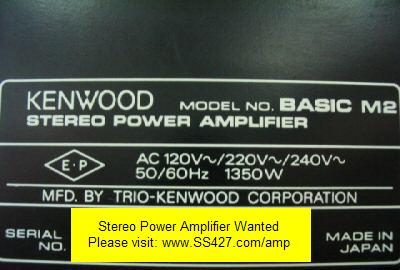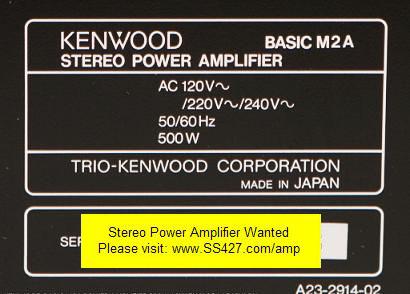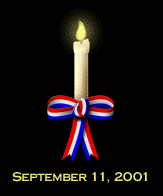 We grieve for all those who fell victim to terrorism on September 11, 2001
To those who perpetrated this act we say: May God have mercy on your souls....for we will not!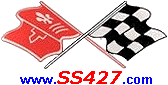 Copyright © 2008 Shreffler. All rights reserved.
Designated trademarks and brands are the property of their respective owners.
This web site was created, designed and maintained by Stephen J. Shreffler using Microsoft Word.
Web Hosting powered by Shreffler Web Hosting Service, P.O. Box 42, Monticello, Illinois 61856
Kenwood Basic M2A Stereo Power Amplifier with Super Dynamic Linear Drive 220W/ch min. RMS, 8 ohms, 20Hz-20kHz, 0.004% THD Super Dynamic Linear Drive Outstanding low-impedance drive Ultra-wide frequency response Superb transient response Wide-range peak-hold power meters Sigma Drive Type B Gold-plated input jacks Dynamic Power EIA: 616W/ch into 2 ohms Ample dynamic headroom: 2dB at 8 ohms Stable low-impedance drive capability even at the lowest active speaker loads Wide-range response FL peak power meters Selectable peak-hold function and hold times 1sec-3sec Ideal amplifier for compact discs: reproduces wide dynamic range Frequency response: DC-300kHz, -3dB Damping Factor 1,000 at 50Hz 8 ohms Full circuit/speaker protection system with thermostat-controlled fan cooling Power muting relay switch with power-on/warning LED indicator Two speaker systems operation without loss of drive power Rated Power output: 220 watts* per channel minimum RMS, both channels driven, at 8 ohms from 20 Hz to 20,000 Hz with no more than 0.004% total harmonic distortion. FTC Both Channels Driven 230W + 230W 8 ohms at 1kHz Clipping Power at 8 ohms 242 W 247 W/ch. 1 kHz at 4 ohms 324 W 350 W/ch. 1 kHz Clipping Headroom at 8 ohms 0.2 dB .5 dB 0.5 dB at 4 ohms 1.1 dB 2.0 dB Dynamic Power at 8 ohms 325 W 346 W/ch. 1 kHz at 4 ohms 484 W 526 W/ch. 1 kHz Dynamic Headroom at 8 ohms 1.5 dB 2.0 dB 2 dB at 4 ohms 2.9 dB 3.7 dB Maximum Continuous Power Output IEC/NF at 8 ohms, 0.7% T.H.D., 63 Hz - 12.5 kHz 230W + 230W Maximum Continuous Power Output DIN at 8 ohms, 1% T.H.D., 1 kHz 230W + 230W at 4 ohms, 1% T.H.D., 1 kHz 250W + 250W Total Harmonic Distortion 20 Hz to 20,000 Hz AUX Input to SPEAKER output .0.004% at rated power into 8 ohms 0.004% at 1/2 rated power into 8 ohms, 0.001% at rated power into 8 ohms at 1 kHz Intermodulation Distortion 60 Hz: 7 kHz = 4:1 60kHz: 70kHz = 4:1 0.004% at rated power into 8 ohms Damping Factor More than 1,000 at 50 Hz, 8 ohms 1,000 at 50 Hz, 8 ohms 1,000 50Hz into 8 ohms Power Bandwidth 5Hz to 100kHz at .04% T.H.D. Transient Response Rise Time 1.8 ms 1.6ps 1.6us Slew Rate +-- 100 V/us Frequency Response 1 Hz to 200 kHz, + 0 dB, - 3 dB DC to 300 kHz, +0, -3 dB DC to 300kHz/+0dB, -3 dB Signal-to-Noise Ratio 120 dB IHF A Curve Unweighted 50 mW DIN MAIN IN 70 dB Channel Separation at 1 kHz, MAIN IN should be terminated with 47 k ohms + 250 pF 70 dB Speaker Impedance Accept 4 ohms to 16 ohms Input Sensitivity/Impedance 1 V/47 k ohms General Power Requirement 120V, 60 Hz Power Consumption 7.9 A UL and CSA, 1,350 W [another M2 sheet listed: 6.9 A UL and CSA rated output power at 8 ohms], 1,350 W 6.9 A USA 7.9 A Canada 500 W others 500 W 6.9A at rated output power into 8 ohms Rated power at 8 ohms A.C. Outlets Switched 2, Unswitched 1 Switched x2 100W, Unswitched x 1 400W Dimensions W 440 mm 17 5/16" H 158 mm 6 7/32" D 373 mm 14 11/16" Net Weight 15.5 kg 34.1 lb Measured pursuant to Federal Trade Commission's Trade Regulation rule on Power Output Claims for Amplifier in U.S.A. Note: We follow a policy of continuous advancements in developments. For this reason specifications may be changed without notice. M2A IEC/NF M2 manual IHF '66 and IEC/NF specifications M2A manual IHF '66 M2A manual IEC/NF M2A manual M2A Spec sheet Service Manual kenwood ka-94 ka94 ka 94 kc-105 kc105 kc 105 km-991 km991 km 991 km-209 km209 km 209 ka-127 ka127 ka 127 km-993 km993 km 993 ka-1100 ka1100 ka 1100 ka-1100 ka1100 ka 1100 ka-828 ka828 ka 828 ka-109 ka109 ka 109 km206 km-206 km 206 km-107 km107 km 107 ka-892 ka892 ka892 sort: newly listed kenwood l-01a l01a l 01a l-o1a lo1a l o1a l-02a l02a l 02a l-o2a lo2a l o2a l-01t l01t l 01t l-o1t lo1t l o1t l-02t l02t l 02t l-o2t lo2t l o2t kt-880d kt880d kt-880 d kt 880 d m1d m-1d m2d m-2d m 1d m 2d ka-95 ka95 ka 95 km-208 km208 km 208 sort: lowest priced kenwood m1 m-1 m2 m-2 m1a m-1a m2a m-2a m 1 m 2 kc-206 kc206 kc 206 km-106 km106 km 106 km-205 km205 km 205 ka128 ka-128 ka 128 km-893 km893 km 893 km-992 km992 km 992 kmx1 km-x1 km x1 kmz1 km-z1 km z1 ka-893 ka893 ka 893 mx5000 mx-5000 mx 5000 ka-907 ka907 ka907 sort: lowest priced kenwood kt-990d 990 kt-3300d 3300 l-02t kenwood l-02t kt-5020 kt-990d l-1000t kt-917 kt-1100 kt-3300d l02t kt5020 kt990d l1000t kt917 kt1100 kt3300d l 02t kt 5020 kt 990d l 1000t kt 917 kt 1100 kt 3300d kenwood ka-3300 ka-3300 ka-3300d d700m km-105 km105 km-x1000 l-1000m l-1000 l-07m l-07 l-07m ii l-09m l-37m l-09 l-37 l-100c l-100 mx-500 mx-5000 m1 m2 - unlock dvd covert chevrolet mercedes programming kenwood ka3300 ka3300 ka3300d kmx1000 kmx 1000 l1000m l1000 l07m l07 l07mii l09m l37m l09 l37 l100c l100 mx500 mx5000 ka 3300 ka 3300 ka 3300d km 105 km x1000 l 1000m l 1000 l 07m l 07m ii l 07 l 09m l 37m l 09 l 37 l 100c l 100 mx 500 mx 5000 kenwood ka-880d ka880d ka 880d ka-880 ka880 ka 880 kenwood l-06m l-08m l-a1 l-08c l-09c l-01t l-03t fisher ca-891 ca-891 ca-890 ca-890 ca-888 ca-888 ca-887 ca-887 ca-886 ca-886 ca-885 ca-885 fisher ca-8 ca 8 ca8 -ca-880 fisher 891 890 888 887 886 885 891 890 888 887 886 885 - unlock unlocker fisher 9145 ca-285b ca-854b ca-871db ca-873b ca-875b 9145 ca-285 ca-854 ca-871 ca-873 ca-875 ca 285b ca 854b ca 871db ca 873b ca 875b ca 285 ca 854 ca 871 ca 873 ca 875 fisher ca-862a ca-870 ca-872 ca-885b ca-886ab ca-887b ca-888x ca-890b ca-891a/b ca-891a ca-891b ca-862 ca 862a ca 870 ca 872 ca 885b ca 886ab ca 887b ca 888x ca 890b ca 891a/b ca 891a ca 891b fisher ca 862 ca 885 ca 886 ca 887 ca 888 ca 890 ca 891 fisher ca-9050 ca 9050 ca9050 tuner - accuphase t-109v t109v t 109v pioneer sx-1980 sx1980 sx 1980 sx-1250 sx1250 sx 1250 sx-1280 sx1280 sx 1280 pioneer and panasonic 7.1 xr55 vsx-1015tx vsx-74txvi xr 55 vsx 1015tx vsx 74txvi xr55 vsx1015tx vsx74txvi vsx-1015 vsx 1015 vsx1015 carver m-240 pioneer m-90 m-91 a-88x a-90d a-91d m90 m91 a88x a90d a91d m 90 m 91 a 88x a 90d a 91d sx-1980 - landscape manual magazine sort: lowest priced kenwood km-207 km 207 km207 urban audio works urban auto works uaw-2400 uaw-2500 uaw-2700 uaw-4400 uaw-4600 uaw-4800 uaw-6900 ua-2w -ebook carver k mos 2150 k mos 2200 k mos 4200 m-2120 m-240 m-4120 pma-2150 kmos 2150 kmos 2200 kmos 4200 m2120 m240 m4120 pma2150 kmos2150 kmos2200 kmos4200 m 2120 m 240 m 4120 pma 2150 kenwood-trio kenwood stereo integrated amplifier 120 23 39 68 ka-9xg 120 16 28 48 ka-92b 125 18 31 52 ka-94 125w .05 thd 4.1a 125 15 26 44 ka-95 export has 150 watt meter 4.1 amp 120 ka-109 120w .03 thd 4a 150 watt power meters 120 wpc @ 8 ohms 20-20k 135 watts at 1k - thd at rated power 20-20000 hz - 0.03% 0.01% at 1000 hz 19.6 lbs 125 18 31 52 ka-127 w/7-band 125w .05 thd ac 120v 60hz 5a 120v ac and 5a 125 20 35 60 ka-128 w/remote 125w .05 thd 5a 125 24 41 70 ka-129 w/7-band eq 130 78 135 235 ka-828 130w .007 thd caution: can not be 130w - power consumption is only 245w total 80 20 34 60 ka-770d 80w 4.2a 100 21 37 64 ka-880d 100 16 28 49 ka-880sd 100w .005 thd - 3.3a eia - 220w iec ac 110-120v/220-240v 50/60hz 220w 120 ka-892 120 .06 thd 2.8a 120 ka-893 120 .06 thd 2.5a usa - 250w other countries part of spectrum 720 system kenwood rates this 120w .06thd but power consumption is only 2.5a 100 ka-894 100 .09 thd consumption 250w 100 ka-895 100 .09 thd 2.5a 250w 150 82 140 240 ka-907 150? 100 ka-994 100 .09 thd consumption 250w 100 ka-995 100 .09 thd 2.3a usa - 210w other countries 150 ka-1100d 150w .055 thd .004 thd 150 28 49 84 ka-1100sd 4a 150 54 92 160 ka-3300d 125 21 37 64 km-128 170 245 400 660 l-02a 2x 170w 20hz...20khz 8ohm 0003% thd thd: 003% rated power 8ohm 0003% 1/2 rated power 8ohm 0003% 1w 8ohm 0003% phono in to speaker out -20db volume 003% rated power 8ohm l-02t 80 34 60 100 ka-v6000 100 36 62 110 ka-v7000 wremote 48 82 140 ka-v7500 5-channel 80w .09 thd 4a 60 94 160 280 ka-v7700 60w .08 thd 300w iec 80 105 180 310 ka-v9500 wremote 80w .08 thd 5a ka-907 totl integrated amp with 150 watts/channel @8 ohms 20 to 20k with less than 0.01% thd. hi speed amp with 0.8usec rise time and 230 v/usec slew rate. damping factor 100. dual power supply. weight 56.9 lbs ka-907 so...this amp is rated at 150 wpc into 8 ohms and 180 wpc into 4 ohms. it has a .01% thd too. power consumption is a massive 1000 watts and it weighs in at 57 lbs. kenwood stereo power amplifier 150 37 64 110 700m 170 watts x 2 into 8 ohms 20hz-20000hz. total harmonic distortion .1% at rated power and .05% at 1/2 rated power into 8 ohms. hook ups for 3 sets of speakers. power consumption at full power 1200watts. this unit is heavy 60 lbs 105 29 50 88 basic m1 110w? 3.5a 80 watts per channel minimum rms both channels driven at 8 ohms from 20hz to 20000hz with no more than 0.008% thd 110 54 92 160 basic m1a power consumption 220w 125 39 68 115 basic m1d 125w .008 thd 220 68 115 200 basic m2 6.9a 5-100khz .004 thd 220 70 120 205 basic m2a 220 watts rms/channel into 8ohms from 20 hz to 20khz with less than 0.004% total harmonic distortion. total dynamic power : 325 watts/channel into 8ohms 48 82 140 ka-v7500 5-channel 80 105 180 310 ka-v9500 wremote 125 35 60 105 km-105 ac 110-120v/220-240v 50/60hz 240 w 125 38 66 115 km-106 125w? .03 thd 4a ac120v 60hz 4a 125 km-107 125w 150w 4a 125 21 37 64 km-128 21 36 62 ka-128 wremote 150 41 70 120 km-205 150w .03 thd 5a 150 41 70 120 km-206 155w .03 thd 350 watt ac 120v 60hz 5a 150 watts per channel minimum rms both channels driven at 8 ohms from 20 hz to 20000 hz with no more than 0.03% thd km-207 5a 150 42 72 125 km-208 155 5a 150 km-209 150w .03 thd ac 120v 60hz 5a ac 120v 60hz 350w part of spectrum 990cd military 150 watts per channel minimum rms both channels driven at 8 ohms from 20 hz to 20000 hz with no more than 0.03% total 120 km-893 120w .03 thd part of spectrum 920 ac120v 60hz 2.7a 100 km-894 100w .09 thd 2.3a usa - other countries 200w 100 km-895 100w .09 thd 200w 100 km-896 100w .09 thd 2.3a no stereo only 150 km-991 150w .03 thd ac 110-120v / 220-240v~ 50/60hz 350w 150 km-992 150w .03 thd 5a - 350w iec 150w - had 200 w meter 5 amp - seller claims 150 wpc at 8 ohms with 0.03% thd 150 km-993 150w 400-20k .03 thd - 280w iec ac 120v 60hz 3a part of spectrum 1020 150 wpc @ 8 ohms 40 hz to 20k hz .03 thd 19.0 pounds caution: power consumption is only 3a 280 watts 100 km-996 100w .09 thd 100 90 155 270 km-x1 130w .03 thd 7a 130 76 130 230 km-x1000 thx caution - is only 3.5 amps 130 watts rms output per channel at 8 ohms stereo ; 270 watts rms output per channel at 8 ohms bridged 125 120 200 340 km-z1 135w .02 thd 9a 6 channel 130 watt thx certified marked: ac 120 volts 60hz 9a 100 68 120 205 l-01a 8 ohms: 120 wpc rms - 4 ohms: 170 wpc rms power consumption: 430 watts at rated power 115 watts idle s/n: 112db ihf a tuner 100 50 88 150 l-05m mono monoblock amplifier output into 8 ohms: 100 watts rms per channel l-06m monoblock amplifier 150 68 120 205 l-07m mono output into 8 ohms: 150 watts rms per channel 150 88 150 260 l-07m/ii mono output into 8 ohms: 150 wpc rms - 4 ohms: 200 wpc rms power consumption: 630w at rated power 45w idle 30.7 lbs s/n: 120db input shorted 170 l-08m monoblock amplifier output into 8 ohms: 170 watts output into 4 ohms: 250 watts power consumption: 250 watts weight: 27.5 lbs s/n: 120db rise time: 0.7us slew rate: +/- 170us input sensitivity: 1v 50kohms special features: sigma drive; die-cast alloy casework; optional l-08ps power supply 300 150 250 430 l-09m mono 120v 60hz 8.5a monoblock amplifier: output into 8 ohms: 300 watts output into 4 ohms: 400 watts power consumption: 1190 watts at full rated power output weight: 47.2 lbs s/n: 120db damping factor: 200 into 8 ohm load mc phono sensitivity: 0.1 mv into 100 ohms input sensitivity: 1v 50kohms special features: frequency response flat from dc to 100khz 200 l-a1 amplifier output into 8 ohms: 200 watts rms min per channel 150 15 26 45 l-37m 100 170 290 l-100c 130 125 215 360 l-1000m 7a power 2x 150w 8ohm 20hz...20khz 0006% thd peak power 2x 235w 4ohm 1khz din thd 0004% 20hz...20khz 75w 8ohm frequency response 5hz...100khz +0 / -3db s/n ratio 115db / 125db se / bal. input inputs 1v/47kohm / 2v/50kohm se / bal. pc 500w dimensions 44 x 166 x 446cm weight 27kg mono monoblock amplifier: output into 8 ohms: 130 wpc rms min output into 4 ohms: 220 watts din per channel power consumption: 500 watts weight: 59.5 lbs s/n unbalanced: 115db ihf 66 /95db s/n balanced: 125db ihf 66 /101db 60 105 180 mx-500 130 76 130 230 mx-5000 sovereign 130 .02 @6 ohm - 270 mono 6 ohm 3.5a kenwood receiver 52 90 155 ksr-1000 130 98 165 290 kr-x1000 440 66 115 200 kr-v990d 120 47 82 140 kr-a8540 kenwood stereo control amplifier pre-amplifier 17 30 52 700c 15 26 44 basic c-1 28 48 84 basic c-2 13 23 39 kc-105 7-band 16 28 48 kc-206 7-band av kc-207 19 32 56 kc-208 7-band av kc-209 part of spectrum 990cd military 70 120 210 kc-x1 140 240 400 kc-z1 thx 49 84 145 l-07c 98 170 290 l-07cii l-08c l-09c 56 96 165 l-1000c kenwood speakers 115 195 340 7 pair 230 380 620 9 pair 84 145 245 ls-1800 pair 100 175 300 ls-1900 pair 3500 5150 7550 standard 1950 2850 4150 standard vented pair 13 23 40 jl-880 pair 23 39 68 ks-h 91 bass ref 860 1250 1850 surpro reference r2.8 thx-dolby digital kenwood am/fm stereo tuner 11 19 32 basic t-1 16 28 49 basic t-2 8 14 25 kt-880 quartz synthesized 9 15 26 kt-880d am-fm 245 400 660 kt-917 - #19: -m- kenwood kt-917 - good bass midrange and treble. a very pleasant sound but more one-dimensional when placed next to the l-02t. 35 60 105 kt-990d quartz pll synthesized - #9: -m- kenwood kt-990d - smooth clean sound that always pleased. why pay more? 34 60 100 kt-1000 kt-1100 34 58 100 kt-3300d fm only - #26: -m- kenwood kt-3300d - very good bass slightly diffuse light mids and pleasant extended highs. a laidback nice listen. 33 58 100 kt-5020 - #8: -m- kenwood kt-5020 - great bass and midrange and extended sweet treble. again why pay more? l-01t 720 1050 1600 l-02t fm only - #1: -c- kenwood l-02t - most natural sound good bass. pinpoint imaging. lifelike three-dimensional sound. l-03t 80 140 240 l-07t 140 235 400 l-07tii - #35: -m- kenwood l-07tii - good all-around sound but loses some inner detail. 130 225 380 l-1000t w/remote - #12: -m- kenwood l-1000t - good bass punchy midrange sweet extended highs. http://www.fmtunerinfo.com/shootouts.html kenwood stereo system 18 33 60 ccd-v 101 125 16 28 49 spectrum 45b 140 19 32 56 spectrum 55b 125 19 33 56 spectrum 57b w/remote cass cd changer 7-band eq int amp belt-dr tbl3-way spk 125 19 32 56 spectrum 65b 125 23 40 68 spectrum 66b tuner dual cass deck w/dolby b 3-way spk programmable 125 22 38 66 spectrum 67b w/remote cass cd changer 7-band eq int amp belt-dr tbl3-way spk 150 34 58 100 spectrum 75b 125 41 70 120 spectrum 76b amp tuner cass deck cd programmable remote 125 37 64 110 spectrum 77b w/remote dual cass 6-disc cd pwr-preamp combo tnr tbl 10 4-spk sys 150 44 76 130 spectrum 86b amp cd 2-video sound inputs tuner cass deck remote 150 42 74 125 spectrum 87b w/remote dual cass 6-disc cd pwr-preamp combo tnr tbl 10 4-spk sys 150 39 68 115 spectrum 95b 7-band w/amp 120 82 140 245 spectrum 720 ka-893 int kt-593 tnr dp-r893 cd kx-w893 cassjl-803 spk 125 56 96 165 spectrum 891 military w/5-disc rotary changer 120 98 165 290 spectrum 920 km-893 pwr kt-593 tnr dp-r893 cd kx-w893 cassjl-903 spk 150 52 88 150 spectrum 991 military w/6+1 cd changer 150 115 195 330 spectrum 1020 km-993 pwrkt-593 tnr kp-m993 cd kx-w893 cassjl-1103 spk kenwood sgn pro surround sound 140 240 400 kc-z1 6 11 19 kt-5020 military 7 12 20 ra-80 slimline reverb 7 12 20 ra-90 ii b reverb 7 13 22 ss-75 dolby surround processor 7 13 22 ss-77 surround sound 7 13 22 ss-78 7 12 20 ss-78-lsk01s military 6 11 19 ss-79 3-mode surround military 9 16 28 ss-79 8 14 24 ss-96 dolby surround processor 8 14 25 ss-97 surround sound wremote kenwood system - audio video 125 37 64 110 spectrum 7060av 125 38 66 115 spectrum 7080av 180 52 88 150 spectrum 9060av 150 60 100 175 spectrum 9080av spectrum 991 150 watts per channel minimum rms both channels driven at 8 ohms from 20 hz to 20000 hz with no more than 0.03% total harmonic distortion. ftc power consumption 5 a ac 110-120v/220-240v ~ 50/60hz 350w includes: km-991 - stereo power amplifier kc-991 - control amplifier kt-591 - fm/am tuner with am loop antenna stand and fm indoor antenna kx-w891 - stereo dual cassette tape deck ge-891 - graphic equalizer dp-m991 - cd player with 6 disc tray magazine src-991 - stereo system rack all audio and system control cords all operation manuals 5 extra 6 disc tray magazines remote control kenwood spectrum 890 stereo power amplifier km 209 150 watts per channel stereo control amplifier/equalizer kc-209 5 cd player dp-r891 rotary type dual auto reversing stereo cassette tape deck kx-79cw suround sound processor ss-79 quartz synthesizer am/fm tuner kt-89 technics turn table sld-2 rear surround speakers 40 watts each all manuals and hook up cords km-106 it shows on the front of the power amp a left side and a right and the highest number on both for the power level meter is 150. it shows that it is manufactured by the kenwood corporation in japan. and the ul electrical compliance reads ac120v under that is 4a and 60hz ka-880d power output: 20 watts per channel minimum rms both channels driven at 8 ohms from 20hz to 20000 hz with no more the 0.008% total harmoic distortion maximum continuous power output din 1 khz at 4 ohms...145 watts maximum continuous power output din 1 khz at 8 ohms...120 watts maximum continuous power output iec/nf from 63 hz to 12500 hz 0.7% total harmonic distortion at 8 ohms...120 watts + 120 watts dynamic power ...165 watts per channel at 8 ohms 235 watts per channel at 4 ohms 265 watts per channel at 2 ohms total harmonic distortion aux input to speaker output 20 hz- 20000 hz 0.008% at 100 watts into 8 ohms intermodulation distortion 60 hz:7 khz=4:1 0.008% at 100 watts into 8 ohms damping factor1000 50 hz into 8 ohms power bandwidth10 hz to 45 khz at 0.04% t.h.d. frequence response5 hz to 100 khz/+0db -3 db input sensitivity/inpedance phono mm 2.5 mv/47 kohms phono mc 0.2 mv/100 ohms tuner/aux/tape150 mv/ 47 kohms signal to noise ration ihf-a phono mm 86 db 2.5 mv phono mc 67 db 250 µv tuner/aux/tape108 db signal to noise ration unweighted: 50 mw din phono mm 58 db phono mc 58 db tuner/aux/tape59 db channel eparation at 1000 hz din phono terminated with 2.2 kohms 67 db aux terminated with 47 kohms+250 pf 56 db phono input capacity din mm 320 pf mc 320 pf phono maximum input level mm 200 mv rms t.h.d. 0.008% at 1 khz mc 15 mv rms t.h.d. 0.008% at 1 khz ouput level/impedance tape rec150 mv/330 ohms phono frequency responseriaa tandard curve ±0.3 db 20 hz to 20 khz tone control bass at 100 hz ± 10 db treble at 10 khz ± 10 db loudness control at -30 db volume level 9 db at 100 hz sobsonic filter at -3 db 6 db/oct. at 18 hz general power requirements120 v 60 hz u.s.a. and canada power consumption5.5 amps at rated output power into 8 ohms u.s.a. and canada dimensonsw 17-5/16 h 5-11/16 d 13-1/2 weight net 22.0 lb ka-109 magnetic phono inputs two tape monitor loops with dubbing cd tuner and video/aux inputs cd direct key listen to cd while recording another source multi-function remote control motorized lighted volume control moves when remote used power meters go to 150 watts headphone out loudness control supports two sets of speakers a b a+b 240 watts 120 per channel into 8 ohms 20-20k 135 watts at 1k total harmonic distortion and intermodulation distortion at rated power 20-20000 hz - 0.03% 0.01% at 1000 hz preamp frequency response 10-50000 hz +0 -3db dimensions 17 5/16 w 5 1/4 h 11 1/16 deep weight 19.6 lbs. adcom stereo power amplifier 200 24 41 70 gfa-1 200 40 70 120 gfa-1a 120 206 350 gfa-5006 6-channel - 50wx6 into 8 ohm 75wx6 into 4 ohm or 175wx3 into 8 ohm 130 50 86 150 gfa-535mkii 125 100 175 300 gfa-5400 200 150 250 420 gfa-5500 200 210 350 580 gfa-5503 200 120 200 340 gfa-555 200 105 180 310 gfa-555mkii 200 wpc @ 8 ohms - 600 watts rms @ 8 ohms in bridge mono mode 300 115 195 330 gfa-565 mono 250 220 360 600 gfa-5800 balanced inputs 300 330 540 860 gfa-5802 250 165 270 460 gfa-585 130 165 280 470 gfa-7000 5-channel thx 155 260 440 gfa-7400 - 5-channel 100wx5 into 8 ohm 150wx5 into 4 ohm0 - 150 250 410 680 gfa-7500 5-channel 210 350 580 gfa-7605 - 5-channel toroidal transformer black 125 200 340 560 gfa-7605s 125 300 480 780 gfa-7607 175 280 450 740 gfa-7700 300 540 840 1300 gfa-7805 300 700 1050 1600 gfa-7807 aragon stereo power amplifier 200 360 580 920 2002 200 600 920 1400 2005 200 740 1100 1650 2007 300 640 960 1450 3002 300 960 1400 2050 3005 200 220 360 600 4004 mkii dual mono 200 180 300 500 4004 125 220 360 600 8002 200 720 1050 1600 8008 mkii dual mono 200 470 740 1150 8008bb 200 340 540 880 8008st 200 560 860 1300 8008x3 3-channel 200 800 1200 1750 8008x5 200 480 760 1150 800x3 balanced 400 760 1150 1700 palladium 1k monoblock 125 1000 1450 2150 palladium 2 mono class a audio research stereo power amplifier 150 620 940 1400 150.2 150 860 1250 1850 150m 1-channel 150 880 1300 1900 150m 2-channel 150 1150 1700 2500 150m 3-channel 150 1400 2050 3000 150m 4-channel 150 1600 2300 3400 150m 5-channel 150 1750 2600 3800 150m 6-channel 150 1950 2850 4200 150m 7-channel 300 960 1400 2100 300.2 150 1100 1650 2400 classic 150 125 230 380 620 d-111 ss 2x125 watts 120 205 340 560 d-120 ss analog module 130 320 520 840 d-130 150 980 1450 2100 d-150 tube 160 860 1300 1900 d-160 tube 840 1200 1800 d-160b 200 360 580 920 d-200 solid state 240 230 380 620 d-240 mkii stereo 4 ohm 400 620 1000 d-240 solid state 250 1250 1850 2750 d-250 mkii servo tube 250 940 1400 2050 d-250 vacuum tube 160 600 900 1400 d-300 solid state 350 310 500 820 d-350 ss 350 500 780 1200 d-350b ss 200 880 1300 1900 d-400 mkii 400 680 1050 1550 d-400 stere 300 700 1050 1550 m-300 mkii pair 1950 2850 4200 m-300 mkii triode 300 1000 1500 2200 m-300 tube mono pair 280 3250 4800 7050 ref 300 mkii 2600 3800 5600 ref 300 3300 4900 7200 ref 600 mkii 4400 6500 9550 ref 600 mkiii 2900 4250 6200 ref 600 140 1150 1650 2450 v-140 monaural balanced input 200 1150 1650 2450 vm220 130 980 1450 2150 vt-150 tube mono 130 1550 2300 3350 vt-150se tube mono 200 2600 3800 5600 vt-200 mkii 200 1800 2650 3850 vt-200 200 2050 3000 4450 vtm 200 carver stereo integrated amplifier 100 75 130 224 cm-1090 105 128 218 370 cm-2002 stereo 150w x 2 66 114 196 cmv-1185 home theater amp carver stereo power amplifier 53 91 156 a-140 2-channel 110 79 136 236 a-220 2-channel 200 106 182 310 a-400x 250 140 238 405 a-500x 2-channel 125 106 182 310 a-705x 5-channel thx 250 246 405 665 a-753x 3-channel 380 244 400 660 a-760x 2-channel 65 65 112 192 av-63 3-channel 60 59 102 176 av-64 112 190 325 av-405 5-channel home theater amp 400 126 214 365 av-505 5-channel 8 ohms 60 87 150 260 av-634 4-3-channel 125 198 330 550 av-705x 5-channel premiere 750 208 345 575 av-753x 3-channel 133 178 295 500 av-806x 6-channel thx 100 248 410 670 avx-806 250 78 136 232 c-500 150 385 610 975 lightstar 2.0 300 645 975 1470 lightstar reference 140 56 96 164 m-0.5t 200 79 136 234 m-1.0t 350 95 162 280 m-1.5+ 350 102 174 300 m-1.5t 375 126 216 365 m-4.0t 120 61 104 180 m-200t 200 53 92 160 m-400a 200 58 99 172 m-400t 250 73 126 218 m-500 250 79 136 236 m-500t power output: 450 watts total. 200 watts rms/channel into 8ohms from 20 hz to 20khz with less than 0.05% total harmonic distortion. 450 watts max. power consumption 300 1200 1760 2590 silver 6 mono-tube 375 3430 5050 7430 silver 7 laboratory series pair 375 3470 5110 7520 silver 7 mkii mono-tube pair 575 93 160 275 silver 7-t 550 114 196 335 silver 7-t mkii 550 216 355 590 silver 9-t 1000w-2 ohm 39 67 116 tfm-4.0 65 45 77 132 tfm-6c 65 55 95 164 tfm-6cb 100 71 122 212 tfm-15 100 74 128 220 tfm-15cb 225 81 140 240 tfm-22 225 85 146 250 tfm-24 military 225 94 162 275 tfm-25 wanalog power meters 250 100 170 295 tfm-35 wanalog meters 250 112 192 330 tfm-35x 375 112 190 325 tfm-42 wladder led power meters 375 130 222 380 tfm-45 wanalog power meters 162 275 460 tfm-55 wanalog meters 380 172 290 485 tfm-55x thx 550 236 390 645 tfm-75 wanalog meters carver stereo receiver 150 83 144 248 avr-100 335 535 2200 c1000 60 56 97 168 hr-722 60 53 92 158 hr-732 80 57 99 170 hr-742 100 56 97 168 hr-752 140 62 106 184 hr-772 61 104 180 hr-875 audio-video 106 182 310 hr-880 87 150 260 hr-885.1 110 57 97 168 hr-895 a-v 80 30 52 89 htr-880 81 140 240 htr-885.1 5-channel 130 52 89 154 the receiver 100 42 72 124 the receiver 90 150 56 97 168 the receiver 150 90 65 112 194 the receiver 900 200 83 144 248 the receiver 2000 wremote 100 82 140 244 the receiver 6200 wremote 125 70 120 208 the receiver 6250 wremote carver professional 120 215 380 ca-900 class h - 900w bridged mono @8 ohm 325w @ 8 barrier strip in/out- 92 165 300 m-1.5t 86 155 280 p3500 72 130 235 pl300 86 155 280 pm-1.5a magnetic field 60 110 200 pm-120 magnetic field 96 170 310 pm-1200 magnetic field 66 120 220 pm-1201 magnetic field 475 175 310 540 pm-1400 60 110 200 pm-175 magnetic field 70 130 230 pm-2.0t magnetic field 70 130 235 pm-300 magnetic field 66 120 220 pm-350 magnetic field 98 175 320 pm-420 74 135 245 pm-600 magnetic field 225 135 240 420 pm-700 78 140 260 pm-900 magnetic field 325 160 290 500 pm-950 115 200 360 pt-1250 magnetic field 175 310 540 pt-1800 - 2200w/bridged @ 4 ohm mono 1100w/2 ohm 225 390 680 pt-2400 - 2-channel 3000w bridged mono @ 4 ohm 1500w @ 2 ohm crown - from audio - crown international 540 290 470 760 ct-1600 com-tech 360 580 920 ct-1610 com-tech stereo 230 135 225 380 ct-400 com-tech 305 250 410 680 ct-800 com-tech 290 470 760 ct-810 com-tech stereo 580 900 1350 cts-1200 wiq-usp3 & cable - 1200w mono 600w stereo xlr/custom cable connectionss - 320 520 840 cts-1200 - 1200w mono 600w stereo xlr/custom cable connections 960 1400 2050 cts-3000 wiq-usp3 & cables - 3000w mono 1500w stereo xlr/custom cable connections 700 1050 1600 cts-3000 - 3000w mono 1500w stereo xlr/custom cable connections- 430 680 1050 cts-600 wiq-usp3 & cables - 600w mono 300w stereo xlr/custom cable connections 200 330 540 cts-600 - 600w mono 300w stereo xlr/custom cable connections - 84 145 250 dc-150a series ii note - our 2001 book shows 1050 watts 150 66 115 200 dc-300 180 125 215 360 dc-300a-2 730 330 520 860 delta-omega 2000 760 1000 1450 2150 esoteric macro reference 350 270 440 720 k-1 stereo 475 320 520 840 k-2 stereo 200 290 470 760 m-2000 350 165 280 470 m-600 320 180 300 500 ma-1000 macro-tech bridgeable 1000 1450 2150 3150 ma-10k macro-tech pair 310 300 490 800 ma-1200 macro-tech stereo 370 600 940 ma-1202 macro-tech 520 350 560 900 ma-2400 macro-tech stereo 360 580 920 ma-2402 520 240 400 660 ma-24x6 macro-tech 1120 600 920 1400 ma-3600vz macro-tech stereo 390 620 980 ma-36x12 macro-tech 1300 780 1150 1700 ma-5000vz macro-tech stereo 740 1100 1650 ma-5002vz macro-tech 225 185 310 520 ma-600 macro-tech stereo 760 680 1000 1550 macro-reference 320 180 300 500 mt-1200 micro-tech stereo 240 390 640 mt-2400 micro-tech stereo 220 135 230 390 mt-600 micro-tech stereo 165 130 220 370 pl-4 power line 200 60 100 175 power base 1 bridgeable 320 94 160 280 power base 2 bridgeable 520 220 370 600 power base 3 stereo 165 100 170 290 ps-400 265 175 290 490 psa-2 aluminum chassis 220 130 220 380 psa-2dx 250 160 270 450 psa-2x 220 210 350 580 pt-1 power-tech stereo 320 215 350 580 pt-2 power-tech stereo 540 300 480 780 pt-3 power-tech stereo 220 165 270 460 sa-2 780 1300 1900 2800 studio reference 1 stereo 355 500 780 1200 studio reference 2 stereo from pro sound - crown international aka amcron 360 600 1000 ct-2000 com-tech 600 940 1500 cts 3000 760 1150 1800 cts 8200 940 1450 2200 cts 8200iq 840 1300 1950 cts 8200vca 1350 2050 3150 ma-10k macro-tech pair 370 620 1000 ma-1402 macro-tech 600 960 1500 ma-3600vz macro-tech stereo 720 1100 1700 ma-5000vz macro-tech stereo 760 1200 1800 ma-5002vz macro-tech 1200 1800 2800 studio reference 1 stereo 450 740 1200 studio reference 2 stereo denon stereo amplifiers denon integrated amplifier 120 54 92 160 pma-900v 130 80 135 235 pma-1520 optical class a denon power amplifier 150 76 130 230 poa-1500 200 78 135 235 poa-2200 200 100 175 300 poa-2400 optical class a 200 120 205 350 poa-2800 stereo gold 200 115 195 340 poa-2800bk 180 190 320 520 poa-3000 class a 250 290 470 780 poa-3000rg mono-stereo 250 190 320 540 poa-3000z 150 86 145 250 poa-4400 mono class a 160 47 82 140 poa-4400a mono military 120 100 170 290 poa-5200 250 68 120 205 poa-6600 mono 260 96 165 280 poa-6600a mono optical class a 200 205 340 560 poa-8000 mono 120 130 225 380 poa-8200 thx 2-channel 120 165 280 470 poa-8300 thx 3-channel 1400 3250 4800 7000 poa-s1 mono 150 165 280 470 poa-s10 monoblock denon professional 54 100 180 poa-1500 70 125 230 poa-2200 92 165 300 poa-2400 optical class a 170 300 520 poa-3000 class a 170 300 540 poa-3000z 52 96 175 poa-4400 mono class a 62 110 205 poa-6600 mono 110 195 350 poa-8000 mono denon receiver 240 390 640 avr-3805 740 1100 1650 avr-4806 700 330 540 860 avr-5600 170 1400 2050 3000 avr-5805 dyanco stereo amplifiers 150 42 72 125 stereo 300 kit 150 49 86 145 stereo 300a assembled 200 110 185 320 stereo 400 ii chrome 205 110 185 320 stereo 400 ii 200 62 110 185 stereo 400 kit 200 64 110 190 stereo 400a assembled 200 70 120 210 stereo 400ma assembled 200 62 105 180 stereo 410 kit 200 78 135 230 stereo 410a assembled 208 98 170 290 stereo 416 kit 208 94 160 280 stereo 416a assembled 200 68 120 205 stereo 420 earthquake powered subwoofers earthquake power amplifiers 300 760 1100 1650 cinenova grande 3 300 560 840 1300 cinenova grande 5 300 1200 1750 2550 cinenova grande 7 450 130 220 370 pa 1000 1100 260 430 700 pa 1100 pair 2000 350 560 900 pa 2000 pair 600 280 460 760 pa 600 300 110 190 320 pa 800 175 125 205 350 pro-600 300 150 250 420 pro-800 450 195 320 540 pro-1000 earthqauke powered subwoofers 600 190 320 520 supernova powered sub pair earthqauke speakers 400 215 125 370 kompressor s-10 black ash 400 155 260 440 kompressor s-12 black ash 175 290 490 supernova 12sn polyurethane 260 420 700 supernova 15sn polyurethane 165 280 460 supernova mkii subwoofer 400 165 280 460 supernova mkiv-10 blk ash or cheery 450 720 1100 supernova mkiv-10 burl 580 120 205 350 supernova mkiv-10 laminate 600 330 540 860 supernova mkiv-10 wood veneer 580 840 1250 1850 supernova mkiv-12 burl 580 250 420 680 supernova mkiv-12 wood veneer 520 800 1250 supernova mkiv-12 600 200 340 560 supernova mkiv-12p polyurethane 580 1050 1550 2300 supernova mkiv-15 burl 600 300 490 780 supernova mkiv-15 wood veneer 600 330 540 860 supernova mkiv-15p polyurethane 580 360 580 920 supernova mkv-10 black ash 580 450 700 1100 supernova mkv-10 burl 580 330 540 860 supernova mkv-10 cherry 600 360 580 920 supernova mkv-10 piano 580 270 440 720 supernova mkv-10 polyurethane 580 480 740 1150 supernova mkv-12 blk ash or cheery 580 660 980 1500 supernova mkv-12 burl 600 540 820 1250 supernova mkv-12 piano 580 310 490 800 supernova mkv-12 polyurethane 580 350 560 900 supernova mkv-12p polyurethane 580 760 1150 1700 supernova mkv-15 blk ash or cheery 580 980 1450 2100 supernova mkv-15 burl 600 780 1150 1700 supernova mkv-15 piano 580 540 840 1300 supernova mkv-15p polyurethane 4650 6850 10050 titan towers fisher equalizer 8 14 24 eq-276b 20-band 7 13 22 eq-550 12-band 2-channel 19 32 56 eq-961 wremote 15 26 44 eq-z1 10-band 7 12 21 ex-550 fisher stereo integrated amplifier 135 11 19 32 9145 - part of 9145 system 120 7 12 21 ca-285b ca-800 100w .04 500w ca-852 100w 120 8 13 23 ca-854b 120w .09 thd 550w 150-watt meter 120v 50/60 hz 550w 100 7 12 21 ca-860 100w ca-862a 120w .09 thd 550w 100 7 13 22 ca-870b 100w .09 thd 470w ca-871 110w .05 thd 470w 120 13 22 38 ca-871db 150w meter 470w ca-872 130w .05 630w 470 watts 150 8 14 24 ca-873b 120 7 12 21 ca-875b ac 120v 50/60hz 550w 100 13 23 39 ca-880 100w .09 thd 400w 150 8 14 24 ca-885b 150w 200w meter .02 thd 700 watts 150 10 18 31 ca-886ab 130 7 12 21 ca-887b 150 8 14 24 ca-888x 150 9 16 27 ca-890b 150w .02 thd 700 watts 150 9 16 28 ca-891a/b ac 120v 50/60hz 700 watts 130 7 13 22 ca-9050 ~ac 120v-50/60hz-220w fisher receivers 160 22 38 64 504 quad 170 26 45 76 rs-1080 120 21 35 60 rs-9040 560 41 70 120 rs-939 150 46 78 135 rs-z1 150 21 37 64 ta-150 tnr-amp combination fisher speakers 13 23 39 st-415 pair 18 31 52 st-515 100 12 21 36 st-828 bass reflex pair 100 15 26 44 st-832 bass reflex pair 52 90 155 st-840 pair 150 16 28 49 st-845 bass reflex pair 130 24 41 70 st-925 bass reflex pair 150 40 70 120 ste-1150 bass reflex pair 200 66 115 195 ste-1200 bass reflex pair 300 370 580 940 ste-2000 bass reflex 21 37 64 stv-1550 pair 100 13 23 39 stv-430ma pair 18 31 54 stv-440m pair 66 115 195 stv-715b reissue pair 8 13 23 stv-875 12 20 35 stv-890 47 82 140 xp-10 consolette pair 75 19 33 56 xp-95c acoustic suspension pair fisher systems 150 41 70 120 8765d wcd changer & remote 150 48 82 140 8785d wcd changer & remote 150 49 84 145 8790d wcd changer & remote 150 62 105 185 8795d wcd changer & remote 200 9 16 27 8806 wremote 200 21 37 64 8836d wremote 130 28 48 82 8840d wcd changer & remote 240 25 44 76 8846d wremote 150 36 62 110 8850d wcd player & remote fisher system - audio video 130 64 110 195 av-9055u 150 47 82 140 avs-4060 150 60 105 180 avs-4070 150 82 140 240 avs-4090 150 98 170 290 mark-20 video-tech 64 110 190 mark-21 video-tech 150 115 195 340 mark-22 video-tech 150 125 215 370 mark-30 video-tech harman kardon harman kardon integrated amplifiers 170 74 125 222 he 6900 120 64 110 190 hk 6800 170 92 160 270 hk 6900 170 100 170 290 hk 6950r system remote control 150 60 105 175 pm-665 vxi high voltage current harman kardon power amplifiers 150 180 300 500 citation 10-i 170 180 300 500 citation 16 150 98 170 290 citation 16a 150 66 115 195 citation 16s 250 490 760 1200 citation 20 200 76 130 225 citation 22 170 120 205 350 pa-2400 200 290 480 780 signature 1.5 stereo 120 185 310 520 signature 2.1 harman kardon receivers 50 130 225 380 dpr 1001 70 225 370 620 dpr 1005 120 270 450 720 dpr 2005 krell integrated amplifier 150 500 780 1200 kav-300i 500 780 1200 kav-400cx 200 920 1350 2000 kav-400xi 250 1100 1600 2400 kav-500i krell power amplifiers 300 2200 3200 4700 dav-1500 200 1350 2000 2950 fpb-200 200 1800 2650 3950 fpb-200c 250 1250 1800 2650 fpb-250m 2700 3950 5800 fpb-250mc pair 300 1950 2850 4200 fpb-300 300 2100 3050 4500 fpb-300c 300 2050 3050 4500 fpb-300cx 700 1550 2250 3300 fpb-350m mono 650 3450 5100 7500 fpb-350mc pair 350 3050 4500 6650 fpb-350mcx mono pair 400 2800 4100 6000 fpb-400cx 450 5150 7550 11150 fpb-450mcx mono pair 600 2150 3200 4700 fpb-600 3200 4700 6900 fpb-600c 1300 2700 4000 5850 fpb-650m mono 650 5050 7450 10950 fpb-650mc pair 700 3100 4550 6700 fpb-700cx 750 6450 9450 13900 fpb-750mcx mono pair 200 1650 2400 3550 ht standard 5 200 1600 2400 3500 ht standard 7 350 5100 7500 11050 kas audio standard mono pair 175 3400 5000 7400 kas2 audio standard 2 mono pair 150 450 700 1100 kav-150a 2550 3750 5550 kav-200a-5 250 520 800 1250 kav-250a 250 1100 1650 2400 kav-250a-3 480 760 1150 kav-300 200 840 1250 1800 kav-300il 1700 2500 3700 kav-1500 250 1100 1600 2400 kav-2250 1450 2100 3100 kav-3250 200 560 880 1350 kma-200 mono 1850 2700 3950 kma-400 2850 4200 6200 krs-200 mono pair 150 840 1250 1800 ksa-150 stereo high bias class a 200 860 1250 1850 ksa-200 660 1000 1500 ksa-200b 200 1150 1650 2450 ksa-200s balanced inputs 250 1200 1750 2600 ksa-250 stereo high bias class a 200 1150 1650 2450 ksa-250s 300 1850 2700 3950 ksa-300s balanced inputs 300 1700 2500 3650 mda-300 pair 500 2400 3500 5150 mda-500 pair 300 370 580 940 power bloc 2 125 1350 2000 2950 showcase 5 125 1100 1650 2400 showcase 6 125 1400 2050 3000 showcase 7 200 1950 2900 4250 tas theater amplifier standard 600 370 580 940 ultra monobloc krell receivers 150 700 1050 1600 kav-300r 2-channel receiver marantz integrated amplifier 125 125 215 370 1250 140 235 400 1260dc 150 150 250 430 1300dc limited edition 140 185 310 520 pm-94bl 140 230 380 640 pm-94g marantz power amplifiers 125 78 135 230 240 125 98 165 290 250 125 84 145 250 250-m wmeters 152 135 225 380 300dc 150 64 110 195 400 wo meters 150 88 150 260 400m wmeters 250 200 330 560 500 250 145 245 410 510 wo meters 250 170 290 480 510m wmeters 125 39 68 115 ma-500 bl mono-thx certified 125 48 84 145 ma-6100 200 78 135 235 ma-700 mono thx 300 1150 1700 2500 ma-9s1 300 82 140 240 mm-500bl 150 170 290 480 mm-9000 275 500 760 1200 mm-9340 150 640 960 1450 mm-9360 410 370 600 960 sm-1000 esotec auto 170 44 76 130 sm-500bl 120 66 115 195 sm-80 bridgeable 165 290 500 mm9000p mark levinson 200 1100 1600 2350 ml-3 dual-mono 200 900 1300 1950 no. 23 dual monaural 200 1150 1650 2450 no. 23.5 dual monaural 300 7900 11650 17100 no. 33 mono pair 200 1450 2150 3150 no. 332 dual mono 300 1500 2200 3250 no. 333 dual mono 250 1550 2250 3300 no. 334 2-channel 1000 2000 2950 4300 no. 335 2-channel 350 2400 3500 5200 no. 336 2-channel 150 4850 7150 10500 no. 33h monaural pair 200 1500 2250 3300 no. 431 400 2000 2950 4350 no. 432 200 1300 1950 2850 no. 433 125 1100 1600 2350 no. 434 mono 350 1400 2050 3000 no. 436 mono mcintosh high $ low power 100 660 1000 1500 ma-6400 100 450 700 1100 ma-6450 100 680 1050 1550 mac-4300v 50 1700 2500 3700 mc-2102 75 1100 1650 2400 mc-275 ii 1350 2000 2950 mc-275 iii 1100 1650 2400 mc-275 iv 75 1400 2100 3050 mc-275 vacuum tube stereo 60 500 780 1200 mc-60 vacuum tube mono 100 580 880 1350 mc-7104 100 880 1300 1900 mc-7106 40 600 920 1400 mc-7108 100 1300 1900 2750 mc-7205 75 500 780 1200 mc-75 vacuum tube mono 640 1000 mda 700 2100 3100 4550 mda1000 d-a converter 1300 1900 2800 mht100 100 1550 2300 3400 mht200 mcintosh integrated amplifiers 1850 2700 3950 ma-2275 200 860 1250 1850 ma-6500 150 940 1350 2000 ma-6800 150 1050 1550 2300 ma-6850 2-channel 200 1350 1950 2900 ma-6900 mcintosh power amplifiers 1000 2100 3050 4500 mc-1000 mono wbalanced inputs 1200 2200 3250 4800 mc-1201 120 220 370 600 mc-122 2-channel 120 720 1100 1600 mc-126 150 620 920 1400 mc-150 160 450 700 1100 mc-162 130 4400 6450 9500 mc-2000 tube 2-channel 200 260 430 700 mc-2002 wmeters 200 660 1000 1500 mc-202 200 1350 2000 2900 mc-206 200 1850 2700 3950 mc-207 120 230 380 640 mc-2120 120 110 190 320 mc-2125 wmeters 150 280 460 760 mc-2150 150 460 720 1150 mc-2155 200 260 430 700 mc-2200 200 440 700 1100 mc-2205 25 370 600 960 mc-225 vacuum tube stereo 250 520 800 1250 mc-2250 250 1100 1650 2400 mc-2255 300 520 820 1250 mc-2300 solid state 500 980 1450 2100 mc-2500 250 1100 1650 2400 mc-252 600 1500 2200 3200 mc-2600 300 920 1350 1950 mc-300 350 1500 2250 3300 mc-3500 tube mono 350 1300 1900 2800 mc-352 960 1400 2100 mc-353 400 1150 1700 2500 mc-401 400 1550 2250 3300 mc-402 500 1600 2350 3450 mc-500 2-channel 500 1100 1650 2400 mc-501 mono 600 2300 3400 5000 mc-602 500 780 1200 mc-7150 stereo 200 920 1350 2000 mc-7200 270 760 1150 1700 mc-7270 800 1150 1700 mc-7300 stereo mcintosh pre-amplifiers mcintosh signal prossessor 245 400 660 cr-10 remote control system 420 660 1050 cr-12 mutltizone control system 840 1250 1800 cr-16 multizone control center 88 150 260 cr-7 remote control system 42 72 125 cr-8 remote area controller 600 920 1400 map-1 1100 1600 2300 mx-132 a-v control center mcintosh pre-amplifiers 1500 2200 3250 c-100 300 480 780 c-15 1700 2550 3700 c-200 780 1150 1700 c-22 vacuum tube reissue 720 1100 1600 c-22 vacuum tube stereo 1500 2200 3200 c-2200 vacuum tube stereo 400 640 1000 c-33 solid state 200 330 560 c-34v solid state 400 640 1000 c-38 system control center 500 780 1200 c-39 audio-video control 460 720 1150 c-40 audio control center 660 1000 1500 c-41 remote preamp 720 1050 1600 c-42 900 1350 1950 c-45 1300 1900 2800 c-46 audio control center 620 940 1400 msd4 440 700 1100 mse1 surround expander 380 600 960 mx-118 preamp-tuner surround sound 540 840 1300 mx-130 a-v tuner control center 390 620 1000 mx-130-6 1500 2200 3200 mx-132 2000 2950 4350 mx-134 mcintosh tuners 400 640 1000 mr-78 solid state fm 330 520 840 mr-80 solid state digital fm 560 850 1300 mr-85 mcintosh audio system 1050 1500 2250 ht thx system nad power amplifiers 250 170 290 480 208 power envelope 250 185 310 520 208 thx 125 98 170 290 216thx 225 175 290 490 218thx 150 90 155 260 2600a monitor series-power envelope 150 110 190 320 2700thx 2-channel 125 185 310 520 925 thx av 120 84 145 250 c270 150 135 225 390 c272 225 310 500 800 s200 2-channel 125 500 780 1200 s250 140 430 680 1050 t973 nad receivers 150 135 225 380 7600pe monitor series onkyo integrated amplifiers 135 160 270 450 a-g10 grand integra 52 88 155 a-sv 610 integra pro onkyo power amplifiers 135 160 270 450 a-g10 grand integra 125 52 88 155 a-sv 610 integra pro 120 600 920 1400 dta-9.4 integra 150 36 62 105 m-501 140 82 145 245 m-502 integra 165 110 185 320 m-504 integra 130 47 80 140 m-5060r 200 155 260 440 m-508 grand integra 200 120 200 340 m-5090 300 500 780 1200 m-510 grand integra 150 40 70 120 m-5160 150 42 72 125 m-5200 150 43 74 130 m-5300 200 210 350 580 m-588f integra 130 920 1350 2000 rda-7 integra 150 1050 1550 2250 rda-7.1 integra panasonic 7.1 receiver xr55 135w pioneer 12-inch speakers 120 13 23 39 cs-405 pair 10 17 30 cs-407 3-way 150 17 30 52 cs-605 pair 13 23 39 cs-607 70 15 27 46 cs-720 pair 60 26 44 76 cs-a700 pair 23 39 cs-b9000 pair 150 14 24 42 cs-c9000 pair 150 10 18 31 cs-e9000 13 23 39 cs-g 301wa pair 120 7 12 20 cs-g 301wa ii 10 17 29 cs-g 303 black or oak vinyl 20 34 58 cs-g 304 pair 33 56 98 cs-g 304a pair 34 58 100 cs-g 305k-q pair 16 27 47 cs-g 503 13 23 39 cs-g3000 pair 60 105 180 cs-h505v home theater sys 11 20 34 cs-m555k-q 15 26 44 cs-m755k-q 15 26 44 cs-n575 k-q 19 32 56 cs-n775 k-q 75 26 44 76 cs-r700 pair 156 26 44 cs-t6100 military pair 11 19 32 cs-t6300 military 23 40 68 cs-t7100 military pair 100 15 26 44 cs-v70a pair 120 20 34 58 cs-v90 pair 240 37 64 110 cs-v900d pair 150 15 26 45 cs-v9010 pair 150 13 23 40 cs-v9020 pair 150 17 29 50 cs-v910 13 22 38 cs-v925 23 40 68 cs-v975 20 34 60 dss-7 pair 210 14 24 42 dss-7 r-l mirror image 28 48 84 dss-9 pair 240 17 30 52 dss-9 r-l mirror image 240 30 52 88 dss-e10 r-l system 78 135 235 hpm-100 pair 200 54 94 160 hpm-900 pair 16 28 49 s-710 r-l mirror image pair 18 31 54 s-910 r-l mirror image pair 48 82 145 sw-100 subwoofer 70 100 170 290 sw-1000 subwoofer - 6 ohm 280 460 740 tz-f700 powered bass pioneer 15-inch speakers 22 38 66 cs-63dx pair 200 19 32 56 cs-705 pair 100 20 34 58 cs-99a pair 29 50 88 cs-g 404 pair 25 42 72 cs-g 405k-q 150 17 29 50 cs-v9920 pair 140 240 400 hpm-150 pair pioneer 16-inch speakers 150 12 21 36 cs-e9900 150 11 20 34 cs-g 401w 11 19 32 cs-g 403 23 40 68 cs-g 703 150 10 18 31 cs-v9930 pioneer high $ speakers 240 37 64 110 cs-v900d pair 78 135 235 hpm-100 pair 250 74 130 220 hpm-1100 pair 140 240 400 hpm-150 pair 175 290 490 hpm-200 pair 16 28 48 hpm-40 pair 45 76 hpm-60 pair pioneer speakers 22 38 66 cs-63dx pair 12 21 36 cs-66 pair 13 22 38 cs-66g pair 13 23 39 cs-77 pair 13 23 40 cs-77a pair 29 50 88 cs-88 pair 19 33 56 cs-99 pair 100 20 34 58 cs-99a pair hpm-1500 speakers - ebay pioneer integrated amplifiers 120 90 155 270 a-27 series 20 120 17 30 52 a-70 non-switching 120 66 115 195 a-71 elite 120 20 35 60 a-88x non-switching 200 47 82 140 a-90 non-switching a-90d 120 78 135 235 a-91d elite 135 16 28 49 sa-1530s 120 23 40 68 sa-900d pioneer power amplifiers 120 215 350 580 m-25 series 20 200 110 190 330 m-90 elite bk cd direct input 200 120 205 350 m-91 elite 250 130 220 380 spec-2 150 100 170 290 spec-4 pioneer pre-amplifiers 90 155 270 c-21 series 20 47 80 140 c-72 58 97 170 c-90 50 86 150 c-91 elite 9 16 28 qc-800 quad 21 35 60 qc-800a quad 19 32 56 sc-100 12 20 35 sc-700 74 130 220 spec-1 pioneer receivers 120 58 100 170 sx-1050 120 52 88 155 sx-1080 160 90 155 260 sx-1250 185 115 195 330 sx-1280 270 290 470 760 sx-1980 120 66 115 195 sx-d7000 400 52 88 155 vsx-49 elite 130 420 660 1050 vsx-49tx elite 130 470 740 1150 vsx-49txi 390 620 1000 vsx-56txi elite 130 780 1150 1700 vsx-59txi elite 540 54 94 160 vsx-605s vsx-74txvi 500 125 215 360 vsx-99 elite 52 88 155 vsx-815 68 115 200 vsx-915 240 19 32 56 vsx-305 dolby wremote 160 24 42 72 vsx-405 surround wremote 150 24 41 72 vsx-504f dolby wremote 540 23 40 68 vsx-505s 150 24 41 70 vsx-506f dolby wremote 100 195 320 540 vsx-1014 92 160 270 vsx-1015tx 410 660 1050 vsx-9300tx 140 235 400 vsx-d1014tx-k 115 200 340 vsx-d1015 revel powered subwoofers 700 900 1400 performa b15a 2 490 760 1200 performa b15a 820 1200 1750 performa f30 pair 1400 2050 3000 power amplifier - ultima le-1 500 780 1200 ultima sub-15 2 500 780 1200 ultima sub-15 3 500 780 1200 ultima sub-15 1800 2600 3850 ultima sub-15-le-1 pair 1600 2350 3500 ultima sub-30 2 1500 2250 3300 ultima sub-30 rotel integrated amplifiers 120 44 76 130 ra-2040 rotel power amplifiers 130 110 190 330 rb-1070 200 215 350 580 rb-1080 380 420 660 1050 rb-1090 dual mono 200 360 580 920 rb-1095 120 34 58 100 rb-2000 500 290 480 780 rb-5000 100 41 72 125 rb-870bx 160 60 105 180 rb-890 120 82 140 245 rb-980bx 360w-mono 130 98 170 290 rb-981 2-channel 200 125 210 360 rb-990bx 200 175 290 490 rb-991 3-channel thx 200 220 360 600 rb-993 3-channel thx 200 460 720 1100 rhb-10 125 160 270 460 rmb 100 mono 120 230 380 640 rmb 1075 200 500 780 1200 rmb 1095 rotel receivers 120 43 74 130 rx-1203 180 66 115 195 rx-1603 sansui integrated amplifiers 170 120 205 350 au-20000 120 38 66 115 au-d 11 130 37 64 110 au-g90x x-balanced technology 160 39 68 115 au-g99x x-balanced technology 160 125 210 360 au-x 1 ddidc 130 44 76 130 au-x901 160 640 980 1500 au-x907mrx 120 70 120 210 av-7100 amp -pre-surpro sansui power amplifiers 160 640 960 1450 av-x907mrx 250 74 130 220 b-1 200 66 115 195 b-2101 x-balanced 200 48 82 145 b-2101 200 220 360 600 b-2102 300 170 290 480 b-2301 120 25 44 76 b-3000 170 110 185 320 ba-3000 300 170 280 480 ba-5000 sherwood integrated amplifiers 125 14 24 42 ad-266r optimum digital-analog 120 23 39 68 hp-2000 120 12 21 37 hp-2000cp sherwood power amplifiers 120 260 430 700 a-965 200 41 72 125 am-7040 120 155 260 440 am-9080 120 130 220 370 amp-9080 sherwood receivers 125 16 28 48 rv-1770r 170 19 32 56 rv-4050r sony integrated amplifiers 125 28 48 84 ta-av490 military 150 31 54 92 ta-av501 military sony power amplifiers 1750 2600 3800 ta-n 1 120 310 500 820 ta-n 10es 110 62 105 185 ta-n 55es 200 82 140 245 ta-n 77es 200 98 170 290 ta-n 80es 30 52 88 ta-n 86b es 160 33 58 100 ta-n 88b es 200 105 180 310 ta-n 900 mono 200 135 230 390 ta-n 900es mono 150 150 250 430 ta-n 901 150 125 215 370 ta-n 901es stereo 170 290 480 ta-n 902 180 300 500 ta-n9000es 180 300 500 ta-n9000es-n sony receivers 19 32 56 str-av1070 125 39 66 115 str-d1011 36 62 105 str-d2070 120 140 240 400 str-da2000es 150 150 260 430 str-da3000es 170 210 350 580 str-da5000es 200 740 1100 1650 str-da9000es sunfire power amplifiers 200 540 830 1280 cinema 7 400 705 1050 1580 cinema 7 signature 200 450 705 1100 cinema grand 5-channel 200 495 770 1200 cinema grand 200-5 200 690 1040 1550 cinema grand 200-7 400 830 1220 1790 cinema grand 400-5 400 920 1360 2000 cinema grand 400-7 225 490 760 1190 cinema grand ii 375 755 1120 1660 cinema grand signature 425 825 1210 1780 cinema grand signature ii 325 480 750 1170 stereo amplifier 300 405 640 1020 sunfire 300 300 665 1000 1510 sunfire 300-two 635 965 1460 sunfire 600 600 940 1380 2040 sunfire 600-two 325 600 915 1390 sunfire ii 600 625 950 1440 sunfire signature 625 495 770 1200 sunfire signature ii 250 325 525 845 symphonic reference 520 800 1240 symphonic reference stack sunfire receiver 720 1050 1600 symphonic reference 715 1070 1600 ultimate receiver 200 1250 1830 2700 ultimate receiver ii sunfire subwoofer 1250 285 385 635 true subwoofer architectural 1500 275 445 730 true subwoofer architectural sig 2700 265 440 715 true subwoofer eq 2700 415 660 1040 true subwoofer eq signature 1250 295 475 775 true subwoofer eq solitaire 10 1500 420 665 1050 true subwoofer eq solitaire 12 1250 250 410 675 true subwoofer mkiv 310 505 815 true subwoofer signature teac 8 14 24 eqa-10 7 12 20 eqa-10ii 10-band 6 10 17 eqa-10iibl 10-band 9 16 27 eqa-110 10-band 11 19 32 eqa-120 10-band graphic 9 15 26 eqa-180 10-band 12 21 37 eqa-190 10-band graphic 7 13 22 eqa-20 10-band 13 23 39 eqa-20bl 10-band 13 23 39 eqa-22 10-band 10 18 31 eqa-220 10-band 11 19 33 eqa-3 10-band 17 29 50 eqa-30bl 10-band 9 16 27 eqa-5bl 10-band 10 17 30 eqa-6 10-band 11 19 32 ge-20 10-band graphic 10 18 pd-700m 6-disc changer wremote technics integrated amplifiers 120 30 52 90 su-v 10x moving coil 120 11 19 32 su-v 85a military 120 24 41 70 su-v 9 125 12 20 35 su-vx800 military technics power amplifiers 170 90 155 270 sa-a100 class aa 350 400 640 1000 se-a 1 170 140 235 400 se-a 100 class aa 300 170 280 480 se-a 3 mkii 200 72 125 210 se-a 3 r&b 150 66 115 200 se-a 5 mkii 120 48 84 145 se-a 5 r&b 160 27 47 80 se-a 70 velodyne powered subwoofers 1250 410 660 1050 dd-10 subwoofer 1250 560 860 1300 dd-12 subwoofer 1250 780 1150 1700 dd-15 subwoofer 1250 1050 1550 2300 dd-18 subwoofer 2500 4000 5900 15000 dd-1812 subwoofer 200 110 190 320 dls-4000 subwoofer 200 105 180 310 dls-4000r subwoofer 600 145 245 410 dls-5000r subwoofer 200 105 175 300 dps-12 subwoofer 115 200 340 f-1200 powered subwoofer 120 155 265 440 f-1200r powered subwoofer 120 130 220 380 f-1200x powered subwoofer 175 290 490 f-1500 powered subwoofer 250 215 360 600 f-1500r powered subwoofer 600 295 470 760 f-1800r powered subwoofer 360 580 920 f-1800rmkii powered subwoofer 120 94 160 280 fsr-12 powered subwoofer 250 250 420 680 fsr-15 powered subwoofer 1250 680 430 1050 fsr-18 powered sub - 18 servo 120 170 280 480 fsx-12 ii 120 160 270 460 fsx-12 wo remote 400 640 1000 hgs-12 ii subwoofer 1250 330 540 860 hgs-12 powered subwoofer 1250 460 720 1150 hgs-12x subwoofer 540 840 1300 hgs-15 ii subwoofer 520 800 1250 hgs-15 powered subwoofer 1250 540 840 1300 hgs-15x subwoofer 720 1050 1600 hgs-18 ii subwoofer 620 960 1450 hgs-18 powered subwoofer 1000 300 490 800 spl1200 ii subwoofer 140 235 400 spl1200 subwoofer 100 125 210 360 uld-12 subwoofer wamp 180 300 500 uld-15 driver & controller only 250 420 680 uld-15 series ii 350 160 270 460 uld-15 subwoofer wamp 165 280 470 uld-18 driver & controller only 270 440 720 uld-18 ii thx subwoofer 380 620 980 uld-18 series ii 350 210 350 580 uld-18 subwoofer wamp 280 450 740 uld-18 thx 250 120 205 350 va1215 250 105 185 310 va1215x ii powered subwoofer 145 250 420 va1250x powered sub 250 98 170 290 va1512 powered subwoofer 130 78 135 230 vrp-1200 subwoofer 100 170 290 vt-30 powered subwoofer yahama integrated amplifiers 120 50 88 150 a-1000 125 39 68 115 a-1020b black 140 54 94 160 a-1060 140 28 48 450 a-32b 130 47 80 140 ax-900u 130 37 64 110 ax-930 military 120 90 52 155 ca-2010 340 80 135 235 dsp-a2070 a-v yahama power amplifiers 150 72 125 215 b-1 170 120 205 350 b-2x dual 200 50 86 960 b-6 240 100 175 300 m-2 120 50 88 150 m-4 120 37 64 110 m-40b 125 43 74 125 m-45b black 120 52 90 155 m-50 160 90 155 260 m-60b 170 52 90 155 m-65b black 200 66 115 200 m-70 250 92 160 270 m-80 250 80 135 235 m-80b 260 100 175 300 m-85b black 200 155 260 440 mx-1 250 840 1250 1850 mx-10000 260 145 245 420 mx-1000u 150 135 230 390 mx-2 130 240 390 640 mx-2000 135 70 120 210 mx-600u 135 64 110 190 mx-630 170 94 160 280 mx-800 170 98 170 290 mx-800u 170 80 140 240 mx-830 500 1250 1800 2650 mx-d1 digital amp yahama professional 115 205 360 cp2000 42 76 140 p1250 mono 42 76 140 p1250c commercial mono 62 110 205 p2250 stereo 64 120 215 p2250c commercial stereo 74 135 240 p2350 dual channel 84 150 280 p2700 dual channel 125 220 390 pc4002-m monitor reference amp am/fm tuners 1000 1450 2150 accuphase t-109v - #1 plus: -c- accuphase t-109v - very natural sound good bass. pinpoint imaging. lifelike three-dimensional sound smooth extended highs. 170 280 470 audiolab 8000t digital - # 4: -c- audiolab 8000t - good bass natural but diffuse sound sweet extended highs. philips ah6731 - # 5: -c- philips ah6731 - a very natural neutral sound. stereo separation best with a good signal. 170 280 480 revox b760 - # 6: -c- revox b760 - great bass lifelike midrange and extended highs. 180 300 500 sansui tu-919 - #2: -c- sansui tu-919 - the prince who could be king. 520 860 sansui tu-x1 - #3 : -c- sansui tu-x1 - very good sound top to bottom. big soundstage three-dimensional. very slight diffuse sound. carver automotive stereo power amplifier 150 19 35 64 k mos 2150 200 32 58 105 k mos 2200 200 35 64 115 k mos 4200 4-channel bridgeable 4 ohm 120 11 19 35 m-2120 2 x 120 watts 120 9 16 29 m-240 4 ohm 120 20 36 66 m-4120 4 x 120 watts into 4 ohms 240 watts x 2 bridged into 8 ohms 100 13 24 43 pma-2150 2 channel-bridgeable jensen automotive stereo power amplifier 50x2 12 22 40 jensen a-1000 urban audio works automotive stereo power amplifier 125 12 21 39 u-5000 2-ch low-high level inputs 200 19 34 62 ua-2w 50 300 25 45 80 ua-2w 75 400 32 58 105 ua-2w100 120 10 18 32 uaw-1201 100 10 18 32 uaw-2110 bridgeable 150 5 10 18 uaw-2150 200 8 15 28 uaw-2200 300 11 19 35 uaw-2300 400 19 34 62 uaw-2400 30w fuse i think 500 24 43 78 uaw-2500 40w fuse 700 37 68 120 uaw-2700 2x 25w fuses 200 5 9 16 uaw-4200 300 7 13 23 uaw-4300 400 11 19 35 uaw-4400 600 25 45 80 uaw-4600 800 28 52 92 uaw-4800 900 33 60 110 uaw-6900 120 7 13 24 uax-1201 150 5 9 16 uax-2150 110 11 21 38 uax-2200 2 channels bridgeable crossover 110 watts per channel 130 16 29 52 ux-2100